While white kitchens still reign supreme in most homes, colorful spaces for cooking are also making a comeback this season. Pinks, blues, oranges, greens, purples, are seen embracing kitchen floors, walls, shelves and cabinets, gracefully. Take a look!
The Apple and Apple Green kitchen
The Apple and Apple Green kitchen is designed by Jennifer Ott. A very well designed kitchen, homeowner, Ott decided to decorate her kitchen with all the colors she liked. If you notice carefully, all the expensive and difficult to change stuff is in neutral colors, the rest is colorful
The most poignant and difficult to design kitchens are those that use striking colors like pink. Probably, it is our love for having Barbie doll kitchens that even inspires the grown ups to select pink.
Deriving inspiration from the VIBGYOR, the rainbow hued kitchen uses the best of turquoise, purple and orange with complementing concrete and glass countertops.
Mint Green and Garage Innovation
Thomas Ahmann, the designer of this unique kitchen has unbelievably converted a garage into an open kitchen by using varied colors. He used mint for the Cabitnery, navy blue for the light fixtures and other cheerful colors for the palette.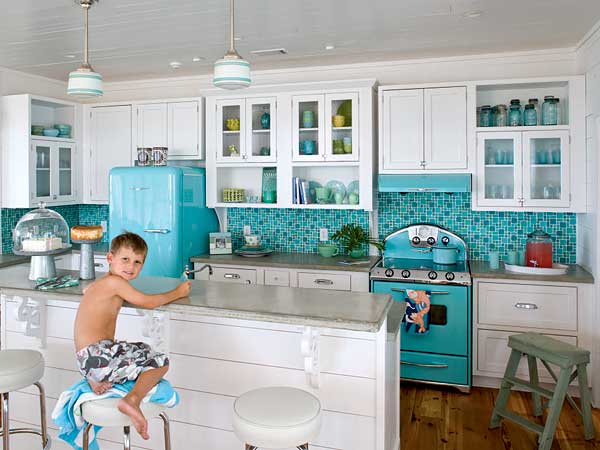 Retro turquoise and white kitchen
A perfect kitchen for coastal houses, the blues and white of the kitchen are an inspiration. The vintage styled appliances imparts it a chic style by mimicking natural sea glass looks.